I was challenged by my local
Barnes & Noble
to develop a list of 31 horror movies to watch, one a day for October. My only problem is that I couldn't pick just one.
For October 26, enjoy the following picks!
Horror Author Joe Chianakas pick-of-the-day:
A NIGHTMARE ON ELM STREET
And NOT the remake. It wasn't necessary. Here you've got a classic: the introduction of Freddy, Johnny Depp's first role, Nancy-- oh, Nancy is awesome! What if someone could kill you in your dreams? This is a beginning of one of the best franchises. Hope to see more done with this series, and not just in remakes.
Available on: Look for it on AMC
Rabbit in Red pick-of-the-day
(a movie referenced in my horror series):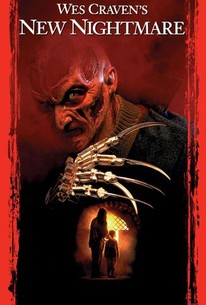 This one probably gets as much hate as it does love, but I'm in the "love it" camp. Of course, you really need to know the original, and ideally the next couple at least. In this one, the actors play themselves, as does Wes Craven. Basically, it's their imaginations in real life that make Freddy come to life. Freddy is extra creepy here, too. It's fun, creative, and scary.
Available on: Netflix
The Magnificent Movie Emporium pick
(join the movie group by clicking the link if you enjoy discussing your favorite movies!)
:
MAMA
What happens to children when they grow up in the wild? What if there's more to it than that? Add a little something sinister to an animalistic upbringing and you get this wild film!
Available on: Look for it on FX
Want more?
My friend Bryan at
Fitz of Horror
, the hottest horror movie page on Facebook, is posting favorite movies by the HOUR this month!
Get Rabbit in Red, the book voted FAVORITE HORROR BOOK OF 2016, today!
Available at
Barnes and Noble
, online retailers like
Amazon
, or request a copy from your favorite, local bookstore or library.
You can read it on the app, Tapas!
You can get a signed copy from our Etsy shop.
The audio book is available for those who prefer to listen! Get it on Amazon, Audible, or iTunes!
Follow the author on Facebook or Twitter.
The second book in the series, Burn the Rabbit, is available now, too.
Enjoy!