I was challenged by my local
Barnes & Noble
to develop a list of 31 horror movies to watch, one a day for October. My only problem is that I couldn't pick just one.
For October 14, enjoy the following picks!
Horror Author Joe Chianakas pick-of-the-day:
KILLER KLOWNS FROM OUTER SPACE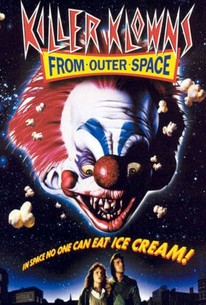 Popcorn guns. Cotton candy webs. Legit alien clowns kidnapping earthlings. Man, this is one I love to watch every fall for a good, corny laugh. Grab some friends and enjoy!
Available on: iTunes (or check your local cable listings; the Comet network has it airing Oct 25)
Rabbit in Red pick-of-the-day
(a movie referenced in my horror series):
PET SEMATARY
Gage is one of the creepiest children ever. And that cat! You get the fun of old school Stephen King with a creepy but well-acted cast that makes for a perfect Halloween night movie.
Available on: Starz/Encore, iTunes
WRONG TURN
There's at least six of these, I believe, which is crazy, but I've only seen the first one. (Are the others any good?) I enjoyed this one-- a group gets stranded in the woods and hunted by scary mountain men. A fun slasher-style flick!
Available on: Syfy Channel (airs Sunday the 16th), iTunes
Want more?
My friend Bryan at
Fitz of Horror
, the hottest horror movie page on Facebook, is posting favorite movies by the HOUR this month!
Get Rabbit in Red, the book voted FAVORITE HORROR BOOK OF 2016, today!
Available at
Barnes and Noble
, online retailers like
Amazon
, or request a copy from your favorite, local bookstore or library.
You can read it on the app, Tapas!
You can get a signed copy from our Etsy shop.
The audio book is available for those who prefer to listen! Get it on Amazon, Audible, or iTunes!
Follow the author on Facebook or Twitter.
The second book in the series, Burn the Rabbit, is available now, too.
Enjoy!